This page is intended to help users of the Motorola NVG510 Modem/Router identify and solve some issues that I (and others) have encountered.
It has a list of questions and answers to the most common problems after the intro part.
Given I cannot longer attend to specific user requests, I suggest using Jordan's app to solve most of your problems quickly. It's free, and Jordan is there to provide support and answer questions in case of problems. I do suggest you consider donating to Jordan for his work.
You can also read more details in this blog post.
Intro
The two most common problems are:
Webpages do not load fully. This problem will happen in any browser, not just Safari, Firefox etc. The problem is not in your computer or browser. It is within the NVG510 (despite what AT&T might tell you). To fix it, see answer number 4 in this post.
Frequent line drops and disconnects - there can be several issues creating this problem. One solution is to ask AT&T to lower the speed of your connection. If it solves the problem, ask them to send a technician to test the quality of your line, or email me and I might be able to help.
Updates
[Updates 1/6/2014]:
1. This is by far the most visited page on my site. It receives over 8,600 visitors a month. That is crazy!
2. It is more than 2 years old, and AT&T users still have problems.
3. Unfortunately I cannot attend to users comments anymore, so I have disabled the commenting option - if you follow the instructions in this post carefully, it will solve your problems - really.
4. I highly recommend using Jordan's app - Jordan has been very helpful in solving NVG510 problems, maintains a few active pages with details and provides excellent support.
[Updated 6/3/2012]:
Six months passed, and users are still having issues. AT&T is weird...
My WordPress insists of constantly changing the pagination of this page - apologies.
The PayPal donation button is back - please consider using it. 🙂
[Updated 2/7/2012]: Now added instructions on changing specific DNS settings on computers. See Answer 4
[Updated 12/15/2011]: Added note about IPv6 issues
[Updated 1/21/2012]: Lots of comment Spam. If it will continue for long, I will be closing commenting. Just email me if you really have issues, or go through the comments and answers in this post
[Updated 1/31/2012]: Somehow, the bridging instructions I wrote were completely wrong and from a previous version of this post. I'm surprised it even worked
If you have suggestions on how to improve this page or perhaps you have found other issues or solutions, please feel free to contact me through the details on the "About Me" page.
FAQ
What is the Motorola NVG510?
The Motorola NVG510 is a combined ADSL2+/Router provided by AT&T for its U-Verse High Speed Internet Customers. It appears AT&T have been providing these modems since around August 2011.
Where can I find the Manual for the NVG510 Router/Modem?
Follow this link to download the manual from this site, with the following disclaimer:
At this time a manual is not available on AT&T's website or motorola website. However, a manual was submitted to the FCC as part of the approval process.
It mostly fits the modems sent to consumers homes, but some interfaces (mainly the command line interface) seem to be disabled.
It can be downloaded from: http://transition.fcc.gov/oet/ea/fccid/ using Grantee Code GZ5 and Product Code NVG510. Under "Display Exhibits" choose "Detail". The manual provided on this site was printed from that link. Copyright belongs to its respective owners.
How do I access the modem's configuration page?
Open a web browser and type in the modem's IP address and press enter. By default it is 192.168.1.254
This should display a page similar to this: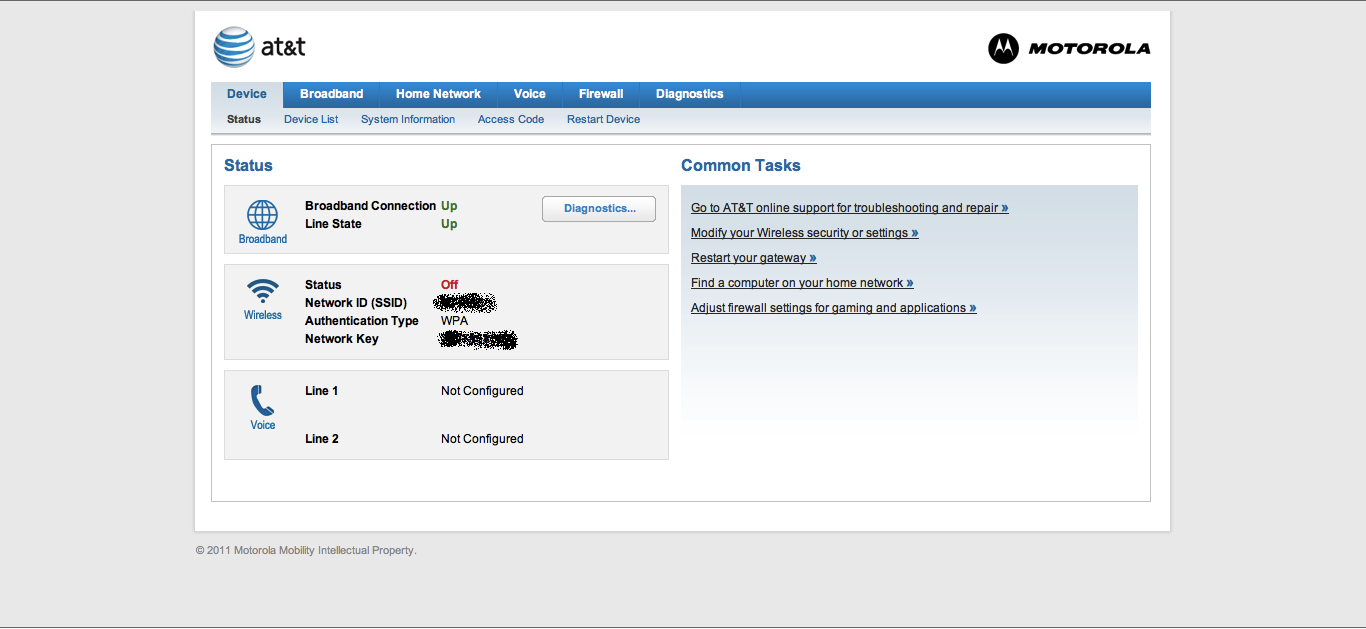 My web pages partially load (e.g., not all images load), or the modem shows a message that websites cannot be reached. What do I do?
This appears to be a main issue with the NVG510 - its DNS settings have an issue with waiting for response from the DNS servers (they give up too fast). To see if this is an issue with your connection, go to the "Diagnostics->Logs" tab. You will need to enter the device access code which can be found on a (yellow) sticker on the modem.
Go over the log. If lines similar to the following appear, then you are having the DNS issues other people have:
2011-11-24T16:53:13-08:00 L3 dnsmasq[2478]: no responses from nameserver '68.94.156.1'
2011-11-24T16:53:13-08:00 L3 dnsmasq[2478]: no responses from nameserver '68.94.157.1'
2011-11-24T16:53:13-08:00 L3 dnsmasq[2478]: nameserver '68.94.156.1' is now responding
2011-11-24T16:53:13-08:00 L3 dnsmasq[2478]: nameserver '68.94.157.1' is now responding
2011-11-24T17:22:56-08:00 L3 dnsmasq[2478]: no responses from nameserver '68.94.157.1'
2011-11-24T17:22:57-08:00 L3 dnsmasq[2478]: nameserver '68.94.157.1' is now responding
2011-11-24T17:23:09-08:00 L3 dnsmasq[2478]: no responses from nameserver '68.94.157.1'
2011-11-24T17:23:10-08:00 L3 dnsmasq[2478]: nameserver '68.94.157.1' is now responding
Until AT&T solves this issue on their DNS servers or by updating the NVG510, there are two possible workarounds that seem to work well:
(a) Manually enter the DNS server details in every device and computer that accesses the Internet through the NVG510. This is a little burdensome.
This is done differently for a Mac or a PC. Specific instructions for each operating system can be found here.
(b) Force the NVG510 to act as a modem only ("bridge" mode), and setup a router after it to handle DNS, address distribution (DHCP) etc. If you have a router (such as a residential WiFi router), this process is very easy.
Then, in this router, set the DNS servers manually. To see how to do all of these, see question 6 below describing how to force the NVG510 into "bridge" mode.
Two things to note:
(a) The DNS server addresses to use appear in the log above, and also in the NVG510 Broadband->Status menu as "Primary DNS" and "Secondary DNS".
(b) The DNS servers themselves are actually fine. However, from my experience (in the SF Bay Area), using Google's DNS significantly improves the network performance. To see how to use Google's public DNS servers, see here. The IP addresses are 8.8.8.8 and 8.8.4.4. If you want to check the performance of your connection, use http://speedtest.net
Some of the websites I go to are stuck with a message from the NVG510, even though other websites work fine.
To fix this issue, clear the web browser's cache. In Google Chrome, this will be in Preferences->Under the Hood->Clear Browsing Data and make sure that "Empty the Cache" is marked.
I want to use my own Wireless Router instead of the NVG510 - Can I bypass the modem or put it into "bridge" mode?
Formally, the NVG510 does not seem to have a simple bridge mode configuration. Luckily, the nice people at the AT&T forum have found a workaround. Making it work requires configuring both the NVG510 and the router manually.
Here are the details:
On the NVG510:
1. Under "Home Network->Subnets & DHCP":
- Device IPv4 Address: 192.168.1.254 (this is the default)
- DHCPv4 Start Address: 192.168.1.1
- DHCPv4 End Address:  192.168.1.1
(This tells the NVG510 to only allocate one address to a device connected to it)
2. Under "Home Network->Wireless"
- Wireless Operation: Off
(Since you will be using your own WiFi router)
3. Under "Firewall->IP Passthrough"
- Allocation Mode: Passthrough
- Passthrough Mode: DHCPS-fixed
- Passthrough Fixed MAC Address: <MAC address of the home router>
(You can find your home router MAC address on the home router's status page.
Make sure to enter the WAN MAC address).
3. Under "Home Network->Configuration", change IPv6 to "Off", unless you know how to configure IPv6 to work with your router. This will save you some issues in the future.
On the Home Router

1. Make sure the home router allocates DHCP addresses on the LAN on a different range than 192.168.1.xxx. For example, 192.168.2.xxx will work (with a subnet mask of 255.255.255.0) or 10.0.0.1 will work (with a subnet mask of 255.255.0.0)2.
2. Tell the router to use a fixed WAN IP address (to not use DHCP to get an IP address from the NVG510). Then use the address from the NVG510 configuration page under "Broadband->Broadband IPv4 Address" as the WAN IP address, 255.255.0.0 as the subnet mask, the address under "Broadband->Gateway IPv4 Address" as the gateway address and the DNS server addresses from question #4 above as the primary and secondary addresses.
Note: from my experience, Google's DNS servers (8.8.8.8 and 8.8.4.4) perform better in the SF Bay Area.
Everything worked great and then suddenly stopped, what happened?
AT&T may have turned on IPv6 on your line, and it messes up the "bridging" mode. To check this, look under "Broadband->Status". If the IPv6 status is "Available", this may be causing the issue.
The solution is to go to "Home Network->Configure", and change the IPv6 option to "Off". Then restart the NVG510 and router.
Why did you create this page?
I was a little frustrated with looking online for all the answers and finding the details scattered all around. Frankly, I'm surprised AT&T doesn't use their own forums to identify such issues, since they seem to be pervasive.
I hope this page has put some order into all the issues. If you notice anything wrong or have any suggestion, shoot me an email (details are in the about me page).
I created this page while being a grad student, and PhD students always have use for more Pizza, or books, so please consider supporting grad students at Cal, this way they can find a cure for cancer, or fix AT&T blunders. 🙂
I have deeper issues, how can I solve them?
Use the AT&T forums and the BBR forums. People there are really helpful. Try to make sure to post your Modem's log (see above for how to access it), and also screenshots of your configuration. If all else fails, contact AT&T Tier 2 Support.